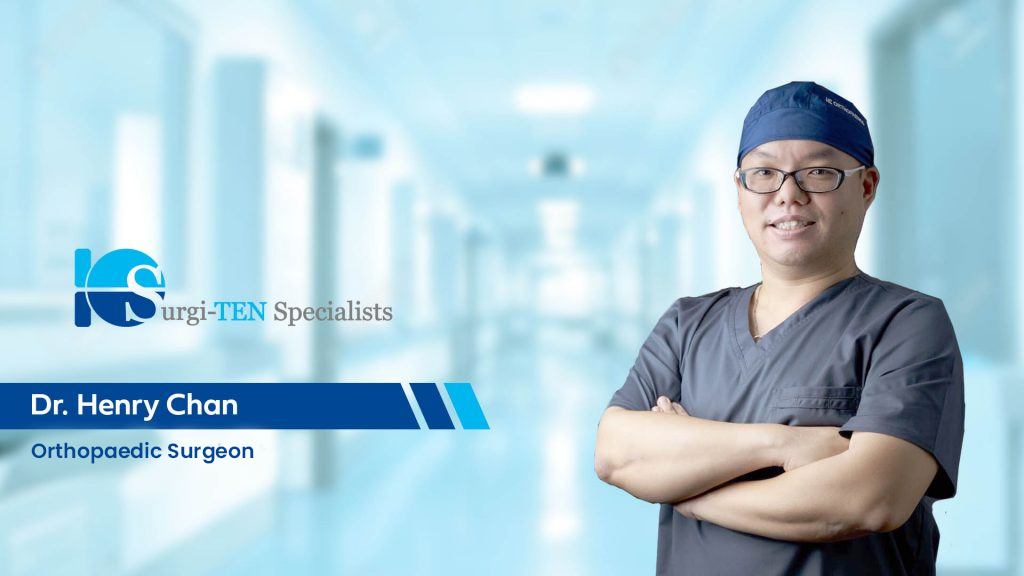 Specialist in Orthopedic Surgery
Special Interests: Computer Assisted Joint Replacement Surgeries (Total Knee Replacement, Total Hip Replacement, Unicompartment Knee Replacement), Pinless Computer Navigation, Patient Specific Instrumentation (PSI) & Robotic Surgery (Makoplasty)
Dr Henry Chan is a certified Orthopedic Surgeon by the Ministry of Health of Singapore. He obtained his basic medical degree from National University of Singapore in 2004. He became a member of the Royal College of Edinburgh and obtained his Master of Medicine (Orthopaedic Surgery) in 2009. He completed his advanced surgical training and became a certified fellow in Orthopedic Surgery in the Royal College of Surgeons of Edinburgh in 2013.
Dr Chan was awarded the prestigious scholarship by the Human Manpower Development Program (HMDP) from the Ministry of Health Singapore and completed his Revision Hip and Knee Arthroplasty fellowship at the Helios Endo-Klinik in Hamburg, Germany in 2014, the largest hip and knee reconstruction centre in Europe.
Dr Chan had also spearheaded the Joint Replacement Unit in Department of Orthopedic Surgery in Tan Tock Seng Hospital and performed more than 1000 joint replacements to-date. He is well-respected in the region and was invited as an instructor for basic and advanced joint replacement courses in various countries including Malaysia, Vietnam, Thailand and India.
His special interests are computer-assisted joint replacement surgeries (Total Knee Replacement, Total Hip Replacement, Unicompartment Knee Replacement) such as pinless computer navigation, patient specific instrumentation (PSI) and robotic surgery (Makoplasty).
The revision joint replacement fellowship in Helios Endo-Klinik, Hamburg, Germany has well-equipped him to treat the various complications of joint replacements such as peri-prosthetic joint infection, peri-prosthetic fracture, persistent pain, recurrent dislocation, stiffness or loosening of joints. The combination of precise computer navigation techniques and meticulous surgical skills have enabled Dr Chan to achieve very good post-surgical results with extremely low complication rates. He is also well versed in the management of adult and paediatric fractures and trauma, general orthopedic, sports injuries with torn ligaments and meniscus, degenerative spine conditions including prolapsed intervertebral discs (slipped discs).
Dr Chan is actively involved in the training of the next generation of doctors and orthopedic surgeons in Singapore. He is appointed the Adjunct Assistant Professor in the Department of Orthopedic Surgery in Yong Loo Lin School of Medicine, National University of Singapore as well as the core faculty of the orthopedic residency program in National Healthcare Group.
Dr Henry Chan is also a selected panel specialist on the insurance integrated shield plan for:
Sports Injuries & Knee Pain
Osteoarthritis
Avascular Necrosis (AVN) Of The Hip
Qualifications MBBS (Singapore)
MRCSEd (UK)
MMed (Orthopedic Surgery)
FRCSEdinburgh (Orthopedic Surgery)